Helical Gears Manufacturer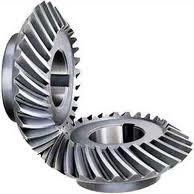 We at Ashoka manufacturer and suppliers of helical gears & double helical gears, these gears are similar to industrial gears. Helical gears have slanting teeth to help gear meshing, these gears are circular in shape where teeth are curved along helical path. Helical gear teeth is connect better than spur gear teeth and run better.
Application of Helical Gears:
Helical gears can be configured either crossed or parallel, depending upon the application's requirements. Mechanically speaking, parallel helical gears are better. This is because the helices meet at a tangent.
Material
: MS or Alloy Steel, Carbon Steel as per ASTM, BS, IS, AISI, SAE or any as per customer requirement.
Manufacturing Capacity
: 10mm to 8,500mm Outside Diameter.
Module
: Upto 40 Module.
Type
: Helical
For any information and enquiry related to Industrial Gears, Industrial Shafts, Fabrication or Cement Plant Consultation, Projects, Budget, Machines, AMC, Up-gradation etc, Please contact Us @ +91 9811141400 or Send Business Query